Timetable / Fare

Timetable・Fare

This is the timetable for the regular-service large pleasure boat NIOMARU course.
The course takes 50 minutes from Matsushima and back.
Timetable
| Service | Departure time | Arrival time |
| --- | --- | --- |
| ❶ | 9:00 | 9:50 |
| ❷ | 10:00 | 10:50 |
| ❸ | 11:00 | 11:50 |
| ❹ | 12:00 | 12:50 |
| ❺ | 13:00 | 13:50 |
| ❻ | 14:00 | 14:50 |
| ❼ | 15:00 | 15:50 |
| ❽ | 16:00 | 16:50 |
During winter, the boat for the 9:00 service may be a medium-sized pleasure boat (capacity of around 70 passengers).
The 16:00 service is not available in winter due to the sun setting early during this season.
We plan to increase the number of services available during the busy Golden Week spring holidays and Obon summer holiday period. (Please ask at the ticket window for details.)
During busy periods, if you line up for the boat just before the cruise departure time, the boat may have standing room only.
Passengers will be boarded in the order they are lined up on the pier, so please line up early if you wish to secure a window seat!
Fare
General fares
| Adults(aged 13 years or above) | Children(aged 6–12 years) | Infants(aged under 6 years) | Groups |
| --- | --- | --- | --- |
| 1,500 yen | 750 yen | Free of charge *1 | A 10% discount is available for groups of 15 or more |
*1 In the case there are a large number of infants compared to the number of accompanying guardians, fares may also be required for the infants.
Upper level observation deck (green)
Enjoy the views from
the open observation deck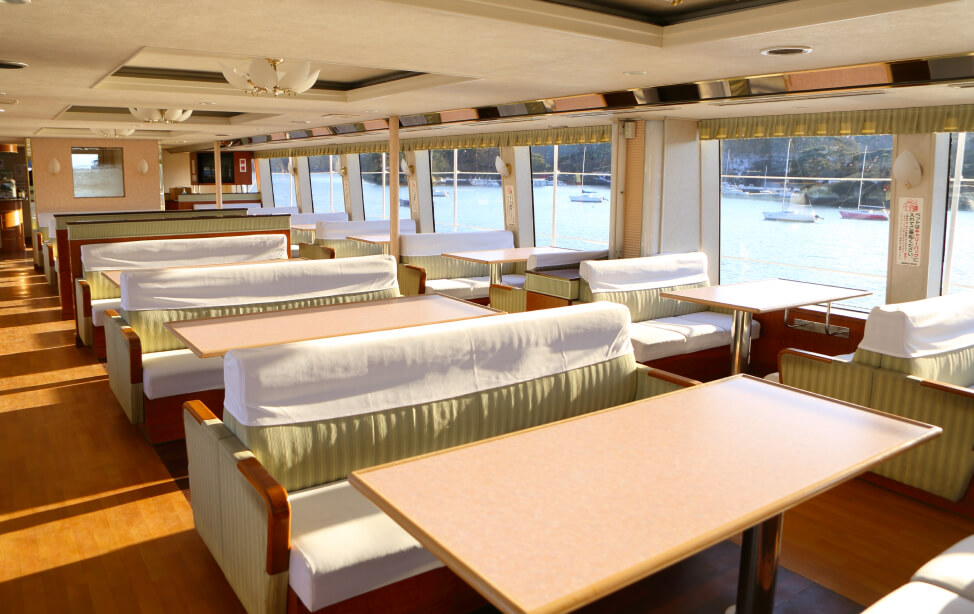 Green seats
All seats on the upper level observation deck (green) are non-reserved seats.
Enjoy even more distant views from the open observation deck.
Wonderful views can also be enjoyed from the lower level, but the added sense of liberating openness on the upper level makes for magnificent views. If you wish to take pictures or videos, we definitely recommend the upper level deck.
*Tickets for the upper level observation deck (green) can be purchased on board. (Please note that observation deck (green) seats cannot be booked in advance.)
| Adults(aged 13 years or above) | Children (aged 6–12 years) |
| --- | --- |
| General fare + 600 yen | General fare + 300 yen |
Pre-school children are free of charge.
For safety reasons, children of elementary school age or younger may not ride on the pleasure boat unaccompanied. (Please ensure that young children are accompanied by a guardian.)
There is a "Green Fee" for access to the upper level, including the observation deck.
Please note that access to the upper level will close when tickets are sold out.
Passengers who have difficulty walking should note that the upper level can only be accessed via stairs. (Priority wheelchair seating is available on the lower level.)

Alcohol and snacks are available for purchase for your enjoyment during the cruise.

Famous Sendai beef tongue jerky, the perfect accompaniment for alcohol: 400 yen

Local Matsushima beer, highly recommended by the captain: 700 yen

Rice balls made with famous Matsushima oysters: 200 yen
Pets OK
You may take your pet on board with you if it is secured in a cage.
Please ensure that your pet's head remains inside the cage while on board.
Pet carriers are available for pet owners to borrow free of charge, but sizes and numbers are limited.
Seeing-eye dogs and other service dogs may accompany you on board freely without them being confined to a cage.